January Newsletter, 2021
We hope you enjoyed your break over Christmas (which now seems so long ago...) and had a great start to your new year.


After all the disruptions of 2020, fires, floods and COVID, we hope that 2021 will be much better for us all.


If you are a new committee member welcome and if you need any assistance, please give us a call.


The CMSolutions team are all back on deck and have already been assisting a number of our members with various employment and finance related issues.


Enjoy our first edition for the year, Happy Reading.
CMSolutions: Your trusted partner, providing the safety net in the tough times and peace of mind at all times.
Jobkeeper 2.0 Extension 2
The Taxation Commissioner has advised that eligible employers will have until the 31 January to make any top ups for eligible employees for the first two fortnights in the JobKeeper 2.0 Extension 2.
Membership renewals for 2021 were sent out in the latter part of 2020!


If you haven't already renewed your membership, rejoin now to ensure you have access to our resources and support for everything 2021 may bring!
Early Childhood Teacher (ECT) Qualification Changes
From 1 January 2022, an educator will need to hold an Early Childhood Teacher (ECT) qualification on the Australian Children's Education and Care Quality Authority (ACECQA) approved list to be considered qualified.
If you have an educator working towards your early childhood teacher (ECT) qualification, they will need to have completed a qualification required under the National Quality Framework (NQF) by this date
Advertisement - Industry Partner

Tips to help you get ready for your Audit!
The Financial statements of the majority of associations must be audited every financial year to ensure that
their books and records are being kept in accordance with all relevant legislation AND ALSO to ensure that
the accounts are complete and represent a true and fair view of the financial position of the association.
5 tips for back-to-school online safety
With so many of our members being busy parents, we know how worrying it can be to think of our children potentially being targeted online.

Parent responsibly—be mindful about sharing your child's first day of school and other milestones on social media.

Know the signs for cyberbullying—signs that your child may be affected, like being secretive with their online activities, avoiding school or social outings, a decline in school grades, or a sudden change in friendship groups.

Set screen time limits— with screens increasingly being used at school and home, it's important to ensure your child has a healthy balance of offline and online time.

Use tools— make sure the privacy settings on their apps and games are turned on and help show them how to block and report people online.


Stay engaged—it's also important to let them know we'll be there to support them if anything goes wrong. There is no substitute for taking an interest in our children's online lives from an early age, to help establish strong foundations and open lines of communication.

You can read the full 2019 article here.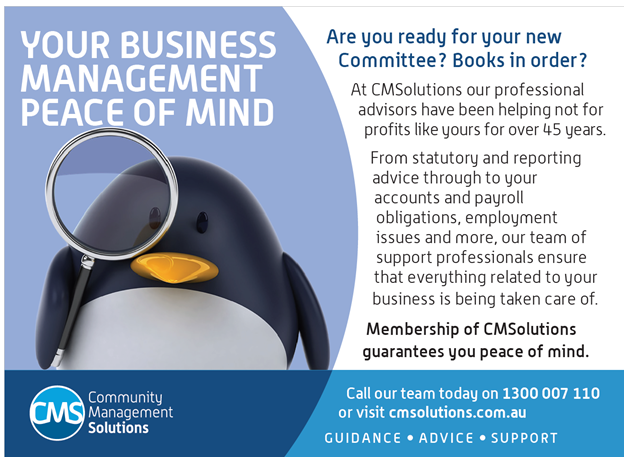 Handover Checklist for Outgoing Executives
As your Annual General Meeting may be fast approaching, outgoing committees should ensure that all their hard work is not lost. You can do this by making sure the handover process is performed correctly. Use our Handover Checklist to ensure all relevant information has been provided to the new executive committee. It is also recommended that the prospective committee member shadow the outgoing committee, attend committee meetings and work together on all tasks remaining for their term.
If you need assistance with your handover contact the CMSolutions team on 07 3852 5177 or 1300 007 110.
Advertisement - Industry Partner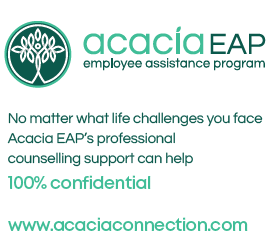 Your Opinion Matters

Take our 3 minute survey.