June Newsletter, 2021
Community Management Solutions "WELCOMES THEIR NEW CHIEF EXECUTIVE OFFICER"
CMSolutions has recently appointed a new CEO to take the reins. Kevin Prendergast was appointed after an extensive search and comes with many years' experience working with Non-Profit Organisations, Corporations, and Charities at very senior levels. Kevin is very highly regarded by his peers and we are looking forward to building a stronger Association under his capable leadership.
Kevin is currently reviewing our services and how we interact with members to ensure the best member advice and service continues to be offered. We are also working with Kevin to plan for the future and build on the strong foundations that have been built by our wonderful staff and previous Managers.
Neale Brosnan continues in his role as Chief Financial Officer and will remain an integral, and vital part of our organisations future and leads our finance team.
Craig Pollard continues in his role as Senior Consultant in all matters pertaining to HR and IR assisting the organisation with his extensive experience and knowledge whilst guiding our HR team..
CMSolutions: Your trusted partner, providing the safety net in the tough times and peace of mind at all times.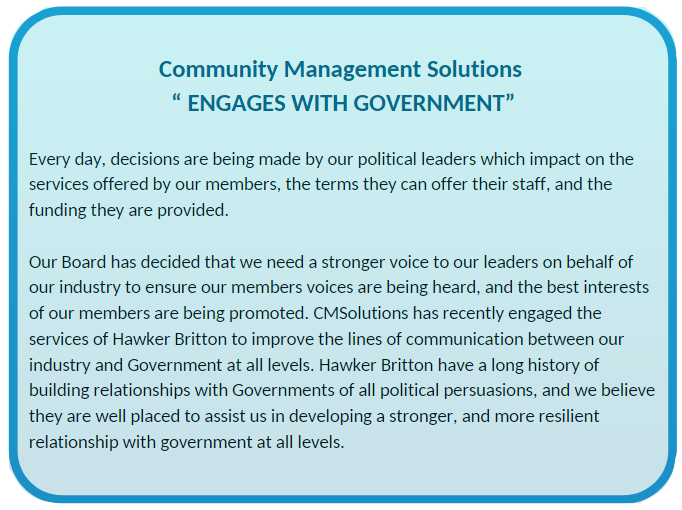 Are you in need of a health check?
A HR/IR Health Check helps you get all your files and processes in order!
What is covered in the Basic HR/ IR Health Check?
Find out Here what is involved
Now I'm the Treasurer! What do I need to know?
Congratulations on being voted in as Treasurer for your community organisation. The Treasurer's role is responsible for the financial wellbeing of your organisation. The job of a not-for-profit Treasurer can be very challenging but also very rewarding.


Treasurers often go above and beyond the call of duty to make sure everything is done and done correctly. It is not an easy job, but it is quite possibly one of the most important positions on any volunteer committee.


We will be hosting two seminars, one for P&Cs and the other is for Community Organisations. These will give you some tools, hints and resources to help your job as a Treasurer be a little bit easier. Some of the areas that will be covered…

What are your responsibilities?
What are the things you must do every month?
Record keeping
ATO / Superannuation
Best practice
Year end audit process
These will be interactive seminars and our presenter Michele Lark (Accounting and Audit Manger) will talk about her experiences as treasurer in community organisations and her years of experience with not for profit organisations. The dates will be announced shortly.
Second Interview Tips
If you are in the process of recruiting new staff and part of your process is to have a second interview, here are some tips to help with this.
You may need to lighten the load
There is no set statutory maximum for weight limit for lifting in the workplace. However, industry guidelines may exist for a particular industry, there may be a workplace policy to which outlines the limit for employees. The employer has obligations to ensure this, so far as is reasonable practicable, there is absence of risks to an employee's health in performing manual tasks in the workplace. The employer should always provide training to employees on how to properly lift heavy materials.


If you are unsure contact CMSolutions for more information on 07 3852 5177
Advertisement - Industry Partner

Can not for profit
organisations
make a profit?
Not for profit organisations are like any other organisation, the only difference is that any profit made goes back into the organisation.
You need to make sure you are financially viable, to cover expenses, employee wages, tax obligations, prepare for expansion and of course you need to ideally have reserves in case of any emergencies.
If you are not covering your expenses, and maintaining a sustainable organisation, then you need to review and implement strategies to change your organisation around.
Are not for profits required to follow employment laws?
The answer is yes! If your organisation is a not for profit and employs staff, then your organisation is required to follow all employment laws and legislation.
Just because you are not for profit does not mean you can pay or employ your staff whatever way you want to. You have to employ your staff under the relevant award or enterprise agreement that covers your staff and can not contract out of these provisions.
Not for profit organisations are unique, but they are still required to follow all state and federal laws and legislation when employing staff. This also covers work health and safety laws.
What do you need to have on the personnel file?
An organisation who has employees should have in place personnel files for each one of their employees. We've attached the checklist below to assist you.
Portable long service entitlements for Queensland community service workers – *(Only Applies to employees covered by the Social, Community, Home Care & Disability Services Industry Award 2010)*
What workplace policies should your organisation have in place?
It is very important for an organisation to implement employment policies which clearly state your expectations and obligations of all parties, including the employer.
It is recommended to have at least the following policies in place in your organisation.

Code of Conduct Policy
Drug and Alcohol Policy
Equal Employment Opportunity Policy
IT Policy
Workplace Bullying and Harassment Policy
Workplace Health and Safety Policy
By having these policies in place you will implement best practice for your organisation. These policies and more can be accessed
here
in our Members Resources Section on our Website.
Contact CMSolutions today to find out more.
Update your committee details here
CMSolutions are advocates for Mental Health and have partnered with Acacia EAP to ensure our members can access a service to support their staff during this time.


For more information, call 1300 364 273 and mention you are a CMSolutions Member.
Other Resources Available:
Your Opinion Matters

Take our 3 minute survey
and be in with a chance to win a
$50 Coles voucher!